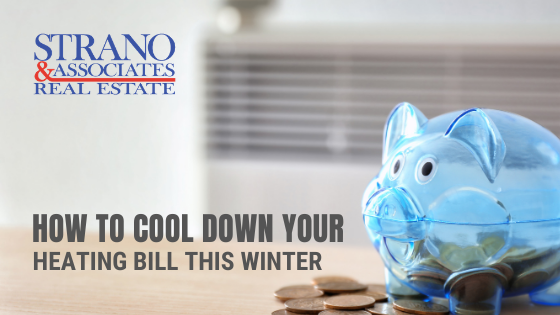 With winter right around the corner, cold temperatures and harsh winter weather are in the forecast. While it's common for your heating bill to increase due to the frigid winter temperatures, there are things you can do to make your heating costs more affordable. Follow these tips to cool your heating bill this winter. 
Get Your Furnace Serviced
To keep your furnace in top-notch condition, it's important to have it regularly serviced. This will ensure that you take care of minor problems before they become major repairs. A properly serviced furnace is more efficient and needs less energy to warm your home. You don't want to find yourself with a non-working furnace on the coldest night of the year; regular maintenance allows you to detect and fix potential issues before the most severe winter weather arrives. Our real estate agents also know that well-maintained homes are more appealing to potential homebuyers. 
Replace Your Air Filter
Ideally, you should be regularly replacing your air filter anyway, but this is especially important during periods where your heating unit will be running a lot. A clean air filter allows your furnace to operate more efficiently; this means that it can heat your house using less energy (which translates to a lower heating bill for your household). Change your home's air filter at least every three months. If you have pets or if someone in your home has asthma, you'll want to change it more frequently. 
Rearrange Your Furniture to Uncover Heating Vents
If you have furniture or rugs covering your heating vents, rearrange the room so that these vents are uncovered. You don't want your furnace to use energy to produce warm air, only for it to be blocked by a couch or chair. Remove any obstructions so that this warm air can freely enter your home. 
Check the Direction of Your Ceiling Fans
During the winter months, your ceiling fans can help you lower your heating bills if they're operating in the right direction. You want to put them on the clockwise setting and operate them at their lowest speed. There should be a switch on the motor housing of the ceiling fan that lets you adjust the direction. The clockwise setting will displace cold air towards the ceiling and push warm air down towards your living space. Remove to put the fan on the counterclockwise setting for the warmer months. 
Replace Your Thermostat with a Smarter Version
Most people know that raising the setting for their thermostat is the easiest way to lower their heating bills. However, it's easy to forget to adjust your thermostat when you're rushing out the door for work or when you're tired and ready to go to bed. Simplify temperature adjustments with a smart thermostat. A smart thermostat allows you to schedule your home's temperature changes; for example, you might set your thermostat to go from 70 to 60 when you leave work. You can even program the thermostat to raise the temperature before you arrive back home, so you don't return to a chilly space. An added benefit of a smart thermostat is that it will help your home stand out from other Belleville homes for sale. Buyers often prefer homes with features that help them save money and make their lives more convenient. 
Is it time to put your home on the market among the other Belleville homes for sale? Contact us today for assistance!